COVID-19 GUIDELINES IN THE U.S. VIRGIN ISLANDS
COVID-19 GUIDELINES (effective 3/15/2023)
All domestic travelers and international travelers are no longer required to complete the USVI Travel Screening Portal nor present an approved green QR code to travel to the USVI.
Official site of the U.S. Virgin Islands Departments of Health & Tourism: https://usvitravelportal.com/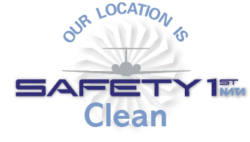 Named part of the Air Elite group by World Fuel Services, Standard Aviation ranks among the top 75 FBOs in the WFS portfolio of more than 8,000 locations in 145 countries. Selected for superior facilities and unparalleled customer service, the Standard Aviation team proudly maintains the brand standards expected of the Air Elite group. Recognized as a preferred FBO of the Corporate Aircraft Association (CAA) and by National Air Transportation Association (NATA), Standard Aviation is a trusted partner of the most discerning groups of professional aviators.
Creating an aviation powerhouse in the Virgin Islands, the massive Standard Aviation facility at TIST/STT includes offices for partners AeroMD (air ambulance service), Breeze Air Charters (fixed-wing charters), and Caribbean Buzz (rotor-wing charters).